Quiéreme tal como soy – Lucero
She 's the one – Robbie Williams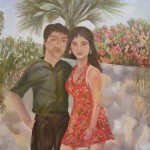 Dear love, lovely love
where are you my dear? cause I want you here.
I look into the sky, and pray for you
I got  the wonderful answer, coming to me through glittery snow
Both together, loving each other, living till the end.
My dear , my love, My darling, my true love.
I want to feel you, here next to me, so close, so deep, so real.
ready to love, mornings and nights, quality of life,
peaceful in the mind, but action and wild.
It is me, it is you , crystalline water running through the rocks.