Hola, Soy Sandra Navarrete.
Nací en Quito, la hermosa capital del Ecuador (30 de diciembre de 1979) en América Latina.
Es ahí en la Mitad del Mundo, en donde comencé mi formación artística a una edad temprana motivada por mis padres, y el ejemplo de reconocidos artesanos y artistas de la familia en distintas disciplinas del arte: pintores, ceramistas, escritores.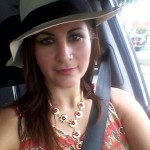 Crecí rodeada por la diversidad de la cultura, las tradiciones, la naturaleza y los paisajes únicos de este país.  Desde magníficos nevados y volcanes , la profunda y misteriosa selva ecuatoriana, las lagunas volcánicas color turquesa, las maravillosas y únicas Islas Galápagos, hasta las playas mágicas del cálido y azul Océano Pacífico.
Estudié Administración de empresas Turísticas, y me especialicé en la operación de tours en Ecuador… Siempre sentí que este mágico país es la fuente de mi inspiración, con su fascinante diversidad de grupos étnicos, flora y fauna.
por esta razón  Ecuador es para mí:  "El museo viviente ".
En el 2002 emigré a Bélgica, y este ha sido ha sido un período de gran importancia en mi vida… pues es aquí en donde me profundicé en la expresión artística, el coaching, la psicología, terapias holísiticas, el Yoga, y varías técnicas y folosifías para profundizar en desarrollo personal.
Jugar con el color y las texturas, con óleos y acrílicos, ha sido desde niña, la manera ideal para comunicar mis sentimientos, acerca de la feminidad, el amor y la alegría de la vida, la idea del paraíso y la mezcla de sentimientos que florecen por la experiencia de vivir en en diferentes países y compartir con diversas culturas.
En Bèlgica terminé mis estudios en "Coaching de Vida",  " Arte terapia", "terapias Holìsticas" y liderè varios talleres y terapias  creativas de desarrollo personal  con multitècnicas,  con el objetivo de fomentar entre jóvenes y adultos el auto-conocimiento, la capacidad de expresión  y el uso de sus talentos personales para crear un mundo más positivo a su alrededor.
Después de varias exposiciones de Arte en Holanda, Bélgica y Alemania, actualmente resido en Quito en donde realizo talleres de Arte, capacitaciones y terapias holisticas para el desarrollo personal.
Si deseas conocer màs acerca de mi obra artistica, puedes visitar mi galeria online:
www.sandranavarreteartpainting.com
********************************************************************************************
Hello, I am Sandra Navarrete.

I was born in Quito, the beautiful capital of  Ecuador (December 30, 1979) in Latin America.
It is  there, in the middle of the world,  where I began my artistic training at an early age motivated by my parents, and the example of recognized artists and artisans family members in different disciplines: Art painters, ceramist, writers.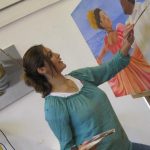 I grew up surrounded by the diversity of culture, traditions, unique nature and landscapes of this Country.   From magnificent snow- caped volcanoes, the deep and mysterious Ecuadorian jungle, turquoise volcanic lagoons, the marvelous Galapagos Islands to the peaceful beaches at the warm blue Pacific Ocean.
I studied tourism and Business and specialized in Ecuadorian tour operation.  I always felt that this magical country is the source of my inspiration,with the fascinating diversity of ethnic groups,  flora, fauna.
That is why I  consider Ecuador as a "The living museum"
I emigrated to Belgium in 2002, and this was an important period of my life as i was deep involved into my studies of Art, Coaching, Psychology, holistic Therapies, and i had the opportunity to learn and experience different philosophies to improve personal development.
Playing with color and textures, with oils and acrylics, is, and has been since I was a child, the ideal way I found to communicate my feelings about femininity, love and joy of life, the idea of paradise and the mixture of feelings that flourish by the experience of living abroad getting along with different cultures and learning new ways of living, thoughts and traditions.
In Belgium I graduated as a "Life Coach ", " Art Therapist" and " Holistic Therapist"  and there I carried out creative therapies and workshops focused on personal development through different disciplines with the aim to improve people's self awareness, the ability of communication, expression and the positive use of their personal talents.
After several exhibitions in the Netherlands, Germany and Belgium, I returned to live in Ecuador in 2013.
Now I live in Quito where I help people with Art Therapies, Holistic Therapies, Coaching and Art workshops.
If you want to know more about my Art work and get inspired, i invite you to visit my online Gallery:
www.sandranavarreteartpainting.com