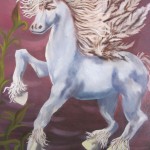 Wonderful things, wonderful situations
They are there, awaiting the moment of peace in you heart to be shown.
When you less expect , you will be surprised, you'll be delighted !
When you less expect,,, wonderful things can happen
You just have to believe, be you, your «pure you».
Immediately you'll begin to feel, all the wonders you desired  with you heart,
they will begin to bright in your human life.
Feel the love in your heart, it 's a new book to write…
feel the love in your heart , and the marvelous things will rise.
Be sure, that they  become true, when you less expect, because goodness is for you.
**************************************************************
Cosas maravillosas, situaciones maravillosas,
Ellos están allí, esperando el momento de la paz en tu corazón para ser mostrados.
Cuando menos lo esperes, te sorprenderán, te encantarán!
Cuando menos lo esperas, suceden cosas maravillosas
Sólo tienes que creer, y ser Tú, tu más » puro TU».
Inmediatamente comenzarás a sentir, todas las maravillas que deseabas desde lo más
profundo de tu corazón.
Es el tiempo en que Comienzan a brillar en tu vida humana.
Siente el amor en tu corazón, y ese es por fin un nuevo libro para escribir …
Siente el amor en tu corazón, y las cosas maravillosas aumentarán.
Puedes estar seguro, de que ellas serán realidad, cuando menos lo esperes, porque la bondad es para tí.