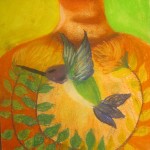 You can never say » somebody has changed my life», because changing your life or
living the life you want, depends only on you, and your vision of what is GOOD for you.
Everybody has a different vision and a different mind, and that is a wonderful thing, the
variety in the world.
Living a great life for  somebody who lives in NEW YORK, should be a different concept
than what it means for  somebody living under de Tuscan sun or those who live their lifes in
the middle of the ecuadorian jungle.
So it is interesting to listen to the ideas of people, and understand their concept of a «better
life», in that way, you can get inspired.
But it is only you, who knows and who can makes come true, living the life that you want to
live, it means, what  «BETTER LIFE»  means for YOU !!
********************************************************
Nunca se puede decir «alguien ha cambiado mi vida», porque el cambio de tu vida o
vivir la vida que deseas, sólo depende de tí  y de tu visión de lo que es bueno para tí.
Todo el mundo tiene una visión diferente y una mentalidad diferente, y eso es lo
maravilloso, la variedad en el mundo.
Vivir una vida ideal para alguien que vive en Nueva York, debe ser un concepto diferente
de lo que significa para alguien que vive bajo de sol de la Toscana o aquellos que viven sus
vidas en medio de la selva ecuatoriana.
Por lo tanto, es interesante escuchar las ideas de la gente, y comprender su concepto de una
«vida mejor», y así puedes obtener inspiración.
Pero solamente tú conoces y puedes  hacer realidad, vivir la vida que deseas vivir,
la VIDA MEJOR PARA TI  !!!