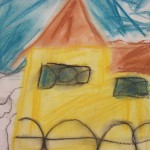 You've grown up in the paradise garden,
being able to increase a family thought.
Had the chance to go to a great school,
and study to be what you wanted to be,
it might be a clouded dream.
Visited all the museums, travelled all the worlds you wanted to see.
You've done quite fun jobs, tasted the flavours of different food.
Everywhere falling in love, and meeting many people of the world.
All the way done, it was important to know,
that the sensation you 've had found in the Grandmother's house
is a unique feeling that will be
living in your heart very deep, for the whole life !!
*****
Vouz avez grandi dans le jardin paradisiaque,
beeing en mesure d'augmenter une pensee de famille.
Eu la chance d'aller à une grande école,
et l'étude à ce que vouz voulez être,
peut-être un rêve nébuleux.
Visité tous les musées, vous avez parcouru tous les mondes que vous vouliez voir.
Vous avez fait tout à fait amusant emplois, goûté les saveurs de la gastronomie.
Partout vous avez de tomber amoureux, et de rencontrer beaucoup de gens du monde.
Tout le chemin accompli, il a ete important pour savoir,
que la sensation que vous avez trouvé dans la maison de la grand-mère
est unique et il va rester dans votre cour profundament pendant tout votre vie
Merci