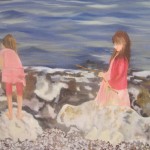 My lovely Living dolls, breathing in the sea,
sublime light that bright my life.
I see you there
enjoying the water and the air
I feel love inside,peace around,
there is nobody who can change, this is life.
Happiness is the way, I begin to realize
when I see you living dolls
I just can give thanks to God,
it is the desire of life that you came through me
I feel gifted with your presence,
like two flowers that perfume  my garden, God blesses you forever.
***************************
Mis adorables muñecas vivientes,
respirando el aire del mar,
sublime luz que ilumina mi vida,
Las miro allí, disfrutando el agua y el aire
siento amor y paz alrededor.
Nadie lo podrá cambiar, esto es vida para mí.
La felicidad es el camino, empiezo a comprender,
cuando veo a mis muñecas vivientes,
Solo puedo agradecer a Dios,
Fue el deseo de la vida, que vengan al mundo a través de mí,
para alegrar  mi jardín, mis flores de amor,
perfumando la vida con su alegria. Dios le de siempre la bendición.