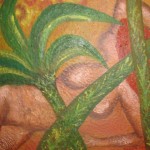 I have so many people around me,
but I feel such a loneliness in my heart.
every time I miss you,
You came, suddenly in my life and in my mind.
now all the people and all around is nothing
if you are not here, next to me.
I have the sea, I have the sand,
lovely landscapes and party time,
But inside me it feels empty,
wishing to be forever by your side.
I miss you, my dear love,
All I want is having another opportunity
to hug you and kiss you, to feel you close to  me,
skin by skin, I love you my darling.
And even if it is only one more time,
I want you with the strength of hundred times
I search you in all around me
see your face in every place, all reminds me the times together
I cant be so long apart of you
I want to be your happiness
the woman who cares your dream
staying close to you, also in your thoughts.
I want to be close to you,
and be able to tell you what I feel, which is all for you.
I am ready to leave my whole world,
just to be with you, wake up next to you.
kissing you in the morning and telling you I LOVE YOU
I want to feel a special woman in your arms,
loving each other every time,
when you hugh me and you touch me so sensual,
so strong, Caress me, my man.
My love, are you able to understand?
all the feelings you awake in me,
I love all from you
your sensual and innocent smile,
your eyes that look at me with desire
and the warmth of your body, is the vitamin that maintains me alive.